Ryan Peters (he/him) is a sophomore at Michigan State University majoring in Linguistics with a minor in Agribusiness Management. He is the representative for the Residence Halls Association for People Respecting Student Individuality at MSU, or PRISM, and the chair of the RHA Internal Affairs Committee.
April is MSU Pride Month, but I can't mention the importance of Pride Month and queer organizations without first mentioning the challenges faced by queer students. (Queer is a salvaged adjective that broadly describes people who are not heterosexual or cisgender. It is offensive when used as a noun).
We are unique in that most other marginalized groups are raised by members of the same group; however, most gay people are raised by straight people, most transgender people are raised by cisgender (non-transgender) people, and so on. We can be born into any culture, color or creed, and many of us are raised in environments hostile to who we are. We often struggle with internalized biases when we discover ourselves.
I believe that gay student organizations and services at MSU provide essential services. Many of these students have parents who don't accept them, histories of bullying, or lives of hiding in the closet.
Queer spaces like the Gender and Sexuality Campus Center, or GSCC, provide a space where students can go without fear. They allow queer students to connect and discuss their experiences and issues of being queer while learning and growing as individuals. Some groups like Transcend (trans caucuses) and neighborhood caucuses provide opportunities for activism.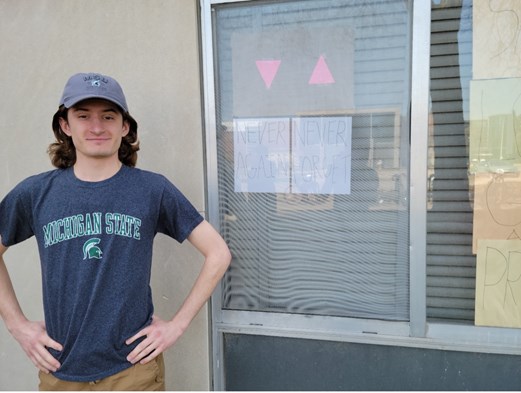 Ryan's window features two pink triangles referring to gay victims of the Holocaust and the AIDS crisis, followed by the text "Never Again, Never Forget," a reference to gay rights activist Leonard Matlovich.
I came here not knowing any queer people; my only sense of community was the internet. I joined PRISM, the South Ward LGBTQA+ caucus, because it was in shambles after the pandemic, and I wanted to make sure there was still something for classes after me. In addition to activism, PRISM hosts weekly meetings that range from game nights to current affairs discussions. We also have a student-only Discord server, an online community to connect.
So, where is Pride month? The month is for several things. It's normally June, the same month the Stonewall Riots started (1969), same-sex relationships were legalized (2003) and same-sex marriage became the law of the land (2015). But history isn't the only reason we celebrate.
We say "gay pride" not because it sounds cool. We say we are "proud" because we grew up in environments that made us ashamed of who we are. Most of us are afraid to go out. Pride Month is a time to tell the world, "We are gay; we are here; Get over it!" It's to show society that we're not happy to be beaten up.
This visibility is important at MSU because it shows incoming and existing queer students that there is a community of people who accept people on this campus, even if you feel like you're the only one. Different groups will do different things for April, but the highlight for me was Pride Prom, hosted on April 2 by the GSCC. Being at a ball where people could like who they wanted and dress how they wanted gave me hope for the future.
Ultimately, we all want to be ourselves and love who we love without shame. With that, I want to part ways by telling all young gay men reading to hang in there because it will get better.
The top banner image is courtesy of Ryan Peters and features the Progressive Pride Flag, which was painted on The Rock on the night of April 17 by PRISM and Spectrum, the South and East Quarter LGBTQA+ caucuses.